Veeam B&R V6 SQL Issue
I was trying to install Veeam B&R V6 on a fresh Windows 7 Ultimate x64 install and could not get it to go past the SQL install. I was using all of the default settings, to be honest I really just wanted FastSCP, none of the SQL Reporting crap that it comes with. However the install kept failing stating "SQL failed to create a new instance" and would then abort the install. This one had me pulling my hair out, as I just recovered this machine from a failed hard drive and really didn't want to reimage the machine again. I then tried the same install on another Win 7 Ult x64 machine I had available, and it installed without issue.
The Fix
After hours of updating and patching Windows, I still had no solution and wasn't ay closer to resolving the issue. I thought maybe if I grab the latest SQL install off of Microsoft I could seal the deal and be done with this already, yet I still got the same error. Although now I was able to get further in the install using SQL Express 2012 and try to install using an existing database (SQLEXPRESS Default). That only resulted in a different error stating "Index was outside the bounds of the array".
Frustrated and ready to reimage I turned to the event logs and found this error "Product: Microsoft SQL Server Native Client — Error 1706. An installation package for the product Microsoft SQL Server Native Client cannot be found. Try the installation again using a valid copy of the installation package 'sqlncli_x64.msi'."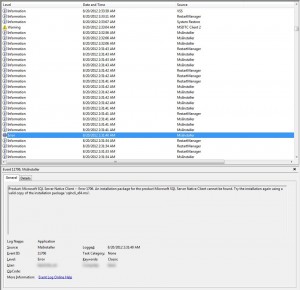 This led me to uninstall the Microsoft SQL Server Native Client from the Programs and Features panel, which I had 2 variances of 2008 and 2012. I also uninstalled any Veeam packages that did install like the Backup and Catalog service followed with a reboot. Upon start up I tried the same install I had been using with no changes and viola! Finally a successful install.